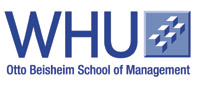 Vallendar, Germany
"At WHU you are going to become really close friends with all the other exchange students, and maybe even with a few German students because it is a SMALL town and school. I became close friends and traveled with students from entirely different universities and countries, which was what I valued most about my exchange semester."

Anonymous, Spring 2019
WHU was founded in 1984 at the initiative of the Chamber of Commerce and Industry in Koblenz. After only 20 years, it is not only counted among the best and most respected centers of business education in Germany, but it also enjoys an excellent reputation internationally. WHU is consistently placed among the top schools in national and international rankings: first places in the current SPIEGEL rankings, top place in FOCUS, in karriere, in the FAZ-Hochschulanzeiger journal of higher education, and in the ZEIT/CHE ranking. Also, with its Kellogg-WHU EMBA program, WHU is ranked #13 worldwide in the international Financial Times ranking. This success-story makes it easy to forget the school's humble beginnings, when it was located in an elementary school in Koblenz, as well as the opposition faced by the founders against their idea of opening a private university.
Passion, People and Performance are the cornerstones of WHU's programs. Only by actively advancing entrepreneurial approaches and innovation does WHU achieve their goal: to educate and train the future leaders of the economy. The ever-present WHU spirit, born of mutual trust, support and respect, endures long after the time spent at the business school. It prepares the individual to accept responsibility in business and society. The performance culture at WHU is reflected both in its excellent students and graduates, as well as in excellent research and academics, repeatedly recognized by independent rankings and accreditations.
Campus:
The town of Vallendar, where WHU is located, lies directly on the Rhine, at the heart of one of the most beautiful and ancient cultural landscapes, the Upper Middle Rhine Valley. The former garrison city of Koblenz, with its historic old town, is just six kilometers away. Cologne and Frankfurt can be reached in under an hour. As a result, opportunities for extra-curricular activities are almost boundless.
A successful mix of old and new buildings gives the campus its unique charm. The various styles cleverly play off one another, without clashing. The Marienburg, a late-Baroque stately home, built between 1770 and 1773, the glass foyer, the neighboring lecture hall, dubbed the Glaskasten, or Glass Box, by students, and the new lecture hall building, inaugurated in 2000, thus form a harmonious whole.
Students and staff enjoy optimum conditions for both study and work. The facilities and equipment provided by the school create an environment that promotes achievement and in which people can feel at home whether they are engaged in study, teaching, research or work. The latest media technology in the lecture theaters, a well-equipped IT room, wireless LAN across the entire campus and a well-stocked library.
Curriculum:
WHU offers a wide range of Business courses, specializing in  Finance, Management issues (Leadership, Strategic Management, HR), as well as Operations Management. Students are expected to enroll in a minumum of 6-7 courses each term in order to reach the 15 unit mininum (Please Note: the number of classroom hours for these 6-7 courses is the same number as 4 courses at USC, so students will NOT be engaged in a more difficult course-load than if they were at USC.)
Sample Schedule:
(from Spring 2014)
Derivatives
Corporate Finance II (Advanced Valuation)
Exchange Rates and International Finance
Capital Markets
Introduction to Modern Banking
International Taxation
German Language
Housing:
Since Vallendar is a relatively rural community, and not all landlords speak a foreign language, WHU offers international students extra support in finding an accommodation. Guest students can opt for a private apartment, an apartment on Krautkrämer Campus or in the Heerstrasse, or in a number of other options. Additional housing support can be found online: WHU Housing
Approximate Dates:
Fall-last week of August until 3rd week of December (approx).
Spring– first week of January and final exams concluding during the last week of April (approx).
Additional Resources
General University Information
Information for Outgoing Exchange Students
Bachelor Program Course Description Handbook