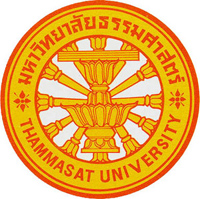 Bangkok, Thailand
"If you think you've had your fair share of spicy food, come to Thailand and you'll find out how much you've truly been missing."

Jeremiah Teems-Robinson, Spring 2020
The Thammasat Buisness School, known as the Faculty of Commerce and Accountancy, is the second oldest state university in Thailand. Thammasat has graduated prime ministers, ministers, central bank governors, and prominent professionals in various areas of social sciences.

The business school has approximately 100 full-time faculty members with diverse interests and expertise.  Each year Thammasat enrolls approximately 12,000 undergraduate students, including 1,500 graduate students.  The Faculty of Commerce and Accountancy is among the pioneers of business programs in English.  Among these are the Master's degree program in Marketing (MIM), the Master in Finance Program (MIF), the Master in Real Estate Program (MRE), the Master of Accounting Program (MAP), the Master of Business Administration Program in International Business – International Program (IMBA) and the Bachelor of Business Administration (BBA).
Courses
Thammasat offers a wide variety of advanced business courses in English for students to enroll in during the fall and spring semesters,including courses in Finance, Marketing, Management and Information Systems. The School of Business has one of the top Accounting, Finanace and Marketing departments in Asia, and is the only school in Thailand to offer a Ph.D. degree in Marketing (they were also the first school in Asia to offer a Masters of International Marketing degree.) Each course is equal to 3 USC units, and students enrolled in the program would be expected to complete 4 business courses while abroad.
Housing:
Housing is NOT provided by the University. However, the Exchange Office will assist students in finding local housing close to campus through on-line resources and a referral service. The Exchange Office also holds a very thorough orientation, in which students are picked up at the airport and shuttled to their hostels, and introduced to their local student "buddy". During this period, the office will assist you in finding housing.  Housing costs average $200-$350 per month for non-shared accomodation. 
Sample Schedule:
Financial Reporting and Statement Analysis
Investment Banking
International Financial Management
Investments
Financial Derivatives
or
Consumer Bahaviour
Business to Business Marketing
Entrepreneurial Marketing
Product and Brand Management
Advertising Management
Semester Dates:
Fall Semester: 1st week of August till third week of December
Spring Semester: 1st week of January till 4th week of May
 
Additional Resources
General University Information