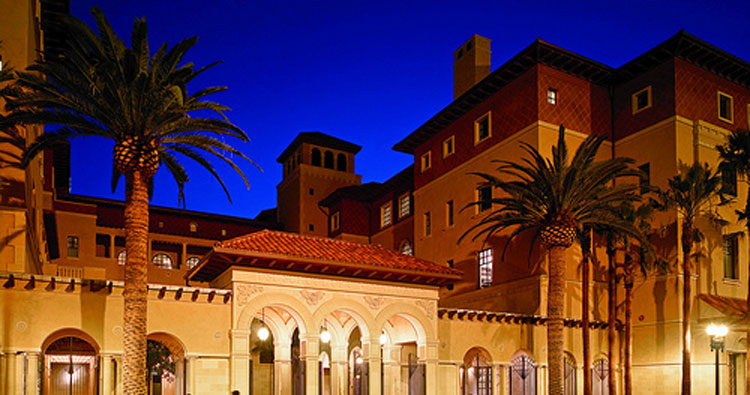 The Business Cinematic Arts (BCA) program at USC Marshall offers students the unique opportunity to complete coursework in both the School of Cinematic Arts and the Marshall School of Business. Upon successful completion of all requirements of the 4 year program, students receive a Bachelor of Science in Business Administration with an emphasis in Cinematic Arts. Graduates of this joint program are well-equipped to apply their skills to both business and cinema professions. The program is available to entering or first semester Marshall Freshmen Only.
Marshall students have an advantage when applying to jobs and internships in the entertainment Industry because our students know how to apply the skills they learn in the classroom to the real world. Check out this video from Bloomberg's Businessweek on "The Best Business Schools in 2012!"
The School of Cinematic Arts and the Marshall School of Business are committed to continuing the excellence that has made us world-class leaders in our respective fields. In order to help facilitate new students in this joint program, we also offer a mentoring program in which students can participate.
INTERNSHIPS
To prepare for careers in business entertainment, students are required to participate in an internship course, CTPR 495, during the second semester of their sophomore year. BCA students work closely with the faculty teaching the course to identify and select an internship. In the past, BCA students have participated in internships with the following companies:
Paramount Pictures
MTV
Radar Entertainment
Scott Rudin Productions
Sony Pictures Entertainment
Columbia Pictures
United Talent Agency
The Gersh Agency
Cosmopolitan Magazine
FOX
Sidney Kimmel Entertainment
Lifetime
Infinity Media

Universal Music Group
Brillstein Entertainment Partners
FX
Disney
Linda Lowy Casting
Edward Saxon Productions
ICM
SBE Entertainment Group
Newline Cinema
ABC
William Morris Endeavor Entertainment (WME)
Paramount Pictures
Brillstein Entertainment Partners
Creative Artists Agency (CAA)
Universal Music Group
PROFESSIONAL NETWORKING
The BCA program also provides professional networking opportunities by bringing in guest speakers from the entertainment industry. Speakers discuss current trends and issues in the industry that give students a clear understanding of the future of cinema, television, the internet, and other forms of media.
Past guest speakers have included:
Doug Herzog – President – MTV Networks
Kevin Beggs – President – Lionsgate Studios Television
Joel Surnow – Creator and Executive Producer of '24' (Fox) and 'La Femme Nikita' (ABC)
Tom Hoberman – Entertainment Lawyer – Hansen, Jacobson, Teller, Hoberman, Newman, Warren & Richman, LLP
Jeffrey Godsick – Executive VP of Marketing – 20th Century Fox
Bruce Snyder – President of Distribution – 20th Century Fox
Jason Kilar – CEO – Hulu
Dan Fellman – President of Domestic Sales and Distribution – Warner Bros.
Eric Schrier – Executive Senior Vice President of Original Programming – FX