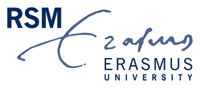 Rotterdam, Netherlands
"Rotterdam is hands down the MOST underrated program on the list. After visiting 7 countries and dozens of cities, Holland has the most to offer in my opinion. Beaches, tulip gardens, coffee-shops, social nightlife…Holland is anything you want it to be. "


Brian Ruben, Spring 2008
Please note: This program is offered only in the Spring semester, and students must complete both Trimesters (24 weeks) of course work in order to receive full business credit (see curriculum section below).
Founded in 1913, Erasmus University is one of the oldest universities in the Netherlands. In 1973, they restructured to be "more in line" with the curriculum of other european universities, and were re-named Erasmus University of Rotterdam. The Rotterdam School of Management is one of the schools within the University. It is one of the oldest business programs in the Netherlands.
Erasmus University is one of the leading institutions in the Europe, with a complete business school (RSM). RSM offers a wide-range of business programs including the newly formed, BA in international business management, 3 MBA programs, 2 PhD programs, and 12 executive and certificate programs. RSM has one of the top ranked Business Schools in Europe (Ranked #8 Non-US Business Program in the World by Business Week), and in the world (ranked #22 by the Financial Times), and is accredited by The Association to Advance Collegiate Schools of Business (AACSB International).
Campus:
The University campus is typical of European universities, consisting of 13 main buildings located just south of the central core of Rotterdam. In addition to the main Woudestein Campus, there is also an Erasmus Medical Center located within 3 miles of campus. The RSM campus is typical for urban European universities. It consists of 13 main, large buildings. In those buildings are housed 4 Libraries with 300,000 volumes, and a full-array of on-line resources, five computer labs with 400 PC computers, a bookstore and coffee shop, hair-dresser, Career center, Bank, and study center. The RSM has its own library with 20,000 volumes, and over 100 on-line resources. RSM has limited housing space available in its Residence Hall, and specifically for exchange students, its international house.
Students and Student organizations:
RSM has an extremely diverse student body, with students representing over 80 countries attending their programs. They accept 400 exchange students in their MBA and BA programs each year, with the majority attending from other European countries. There are 1100 students attending RSM in the program in international business, and over 3000 students attending RSM total. There are over 60 student organizations and clubs, covering a range of areas and interests.
Curriculum:
Courses at RSM are 11 weeks in length during Winter/Spring, and meet for 3 hours each week, for a typical 5 unit RSM course. Students must enroll in a minimum of 13RSM (ECTS) units each Trimester and a maximum of 20 units. IEP students will attend the program during the winter (January – March) and Spring (April – June) trimesters, completing 26 – 40 RSM units (13 – 20 each semester) for 15 – 18 USC units. (Students would complete 24 weeks of coursework during the program). Exchange students must complete a minimum of 30 ECTS units over the two trimesters. Please note: RSM's curriculum is rather limited in scope (they have a CORE set of classes and limited elective courses.)
Sample Schedule:
Winter Trimester
BAB07 International Investment and Trade
BAD07 Corporate Finance
BAB04 Foundations of Business Law
BAP59 Business Plan
Spring Trimester
BAB05 International Financial Management
BAB11 International Marketing Research
BAB15 Entrepreneurial Finance
Approximate Dates: Spring term (2 trimesters) Early – January till Mid – June
Final exams: 3rd and 4th week of March (second trimester) 1st to 3rd week of June (third trimester)