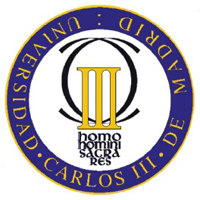 Madrid, Spain
"When you are abroad it is easy to try to find a new normal in the city you're living in, but I encourage you to continuously push yourself out of your comfort zone during the exchange semester."

Mia Price, Spring 2020
UC3M has one of the top ranked Business Schools in Spain (Ranked 3rd) and has recently been ranked in the top 150 business programs in the world by the Financial Times. The university was founded in 1989, and is one of the seven public universities in Madrid. UC3M has around 18,000 students and receives 416 Erasmus students and 54 students from the Americas, Australia, New Zealand, Philippines, Singapore and Israel each semester. UC3M was the first university in Spain to adapt all its study programs to the European Credit Transfer System.
Campus:
Carlos III University of Madrid consists of three schools: the School of Social Science and Law, the School of Humanities and the School of Engineering situated on three different campuses in Getafe, Leganés y Colmenarejo. Business students will attend classes on the  Getafe campus, located in the southern part of Madrid (less than 20 minutes by train from the central business district). The modern campus installations include two libraries, computer rooms in various buildings, audiovisual rooms, recording studios, court rooms, wifi throughout the campus and a sports center with facilities for basketball, tennis, squash, beach-volleyball and sauna, among others.
Students and Student Organizations:
There are over 19,000 students, attending UC3M of which 80% are from Spain. They admit 400-500 exchange students each term at the Bachelors as well as Masters levels. The School of Management has exchange agreements with 100 institutions, and accepts around 200 students per terms on exchange, with the majority of those students coming from the Euro-zone countries.There are hundreds of different student organizations and clubs, covering a range of areas and interests.
Curriculum:
Exchange students may select from any of the 30-40 advanced business courses offered in English each semester. Students who possess Spanish language ability are also eligible to complete the 20-30 additional business courses offered solely in Spanish during any given term.Courses at UC3M are 6 ECTS credits each. The average course load at UC3M  is 5 courses (30 units). Each 6 credit course at UC3M equals 3 USC units. 
Sample Schedule:
Innovation and Technological Change (6 ECTS Units)
Advertising and Communication (6 ECTS Units)
International Finance (6 ECTS Units)
Family Business Management (6 ECTS Units)
Fundamentals of Film and Video Directing (6 ECTS Units- NOT eligible for Business credit-elective credit only)
Housing:
The University does not manage housing for the international students, however they do provide resources to help students find a place to live. 
Students have several options: Living in Getafe (where most exchange students attend to classes) or live in Madrid. Living close to the campus is normally a cheaper option, and provides students with a much more "authentic" Spanish experience living in a local neighborhood. Most students choose to live in the Madrid city centre which is 20 minuted by train from campus. Housing typically costs about 300-400€ per month near campus, and 500-700€  in the city centre.
Semester Dates:
Fall Semester: 1st week of September till 3rd week of December
Spring Semester:Last week of January till last week of May
Additional Resources
General University Information