The Virtual Business Professional (VBP) Project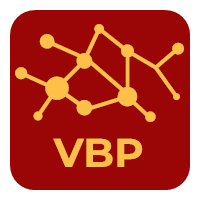 The VBP Project is a global student collaboration project created and managed by business communication faculty at the Marshall School of Business at USC. It's goal is to help students develop skills necessary to succeed in a fast-paced global business environment that is increasingly relying on social platforms and virtual collaboration for their internal and external communication. 
Every semester, between 500 and 700 students participate in VBP.  These students collectively represent over 50 countries around the world and study at 17 universities in 10 different countries.
 
---

VBP Project Partners are: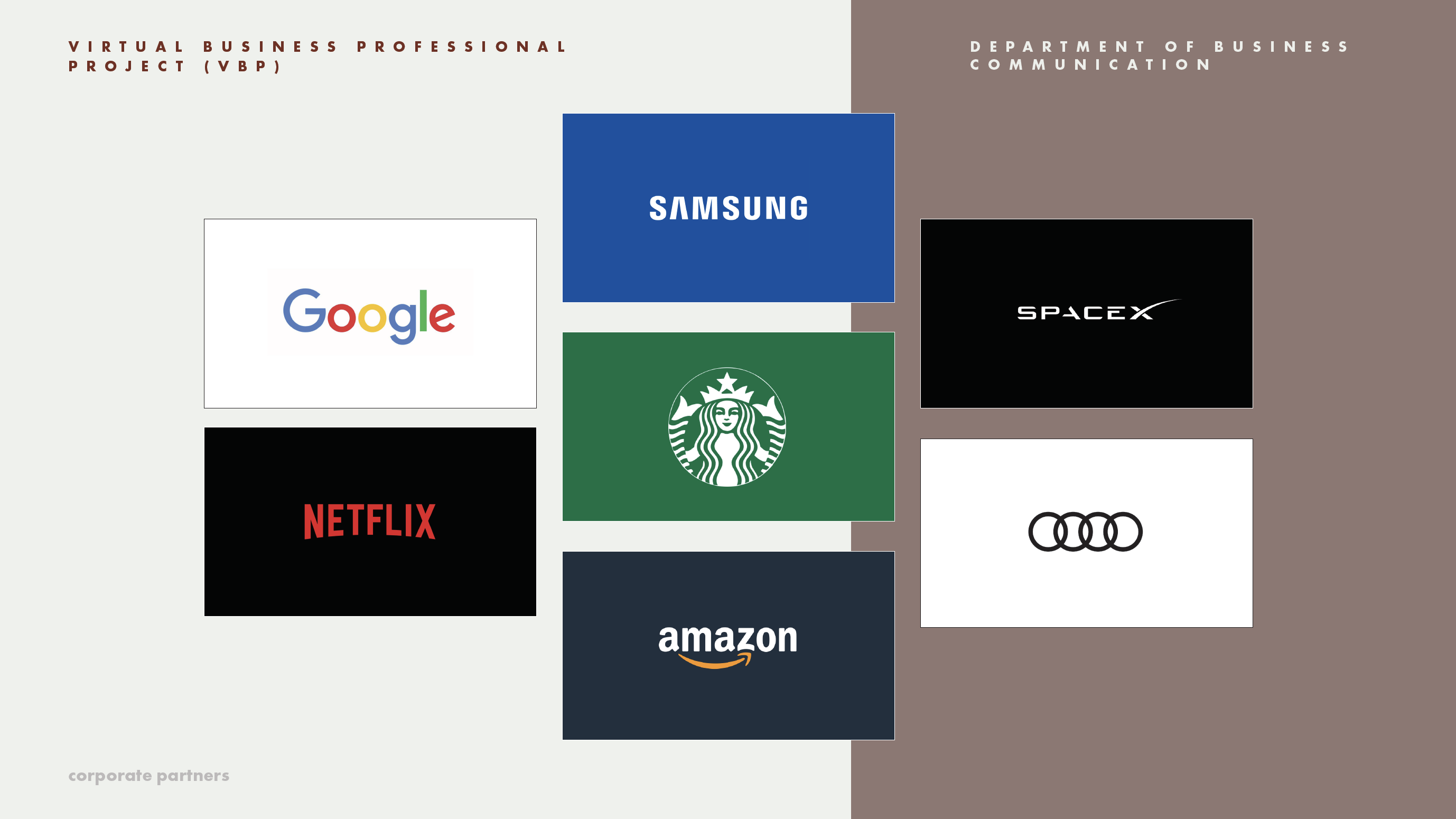 Comments from Participating Students:
"I worked with teammates from around the world on a market entry strategy for  Audi AG's Universal Traffic Recorder. My team consisted of six members from three countries and five time zones. I'm proud of the way we collaborated via Slack, Skype, and Google Docs, especially during the unexpected events of the semester. 

Our report was sent to Audi, and I am honored to announce that we received 2nd place in the competition!"

Student Participant, University of Southern California
"I recently participated in Virtual Business Professional and secured Winning Position for our Netflix Report. This gave me an opportunity to interact with the lead Technology Auditor at Netflix. I, along with approximately (650) other students from (13) universities located in the US, Germany, Spain, Taiwan and (8) more countries of the world. This pool of students including (60) students from Birla Institute of Management Technology (BIMTECH), were divided into teams carrying members from different cultural backgrounds.

The teams were expected to offer recommendations to the three partner companies- Google, Netflix and Amazon for improvements in their corporate online communication, our company chosen was Netflix. I would like to extend my gratitude towards my mentor and guide Dr. Kabra for providing me with this opportunity. Also, I would like to thank my teammates!"

Student Participant, BIMTECH (India)
"I felt the accomplishment of working with people from all over the world. I have never done anything like this before. This was a fantastic opportunity." 

Student Participant, Kennesaw State University
"After six weeks of hard work and learning, I successfully completed my VBP Project organized by the USC Marshall School of Business with students in teams from various countries of the world. I would like to thank Birla Institute of Management Technology (BIMTECH) and Dr. Shrivastava for giving me this great opportunity to realize the importance of virtual platform, gaining skills and working on the virtual platform.

It was great working on offering the recommendations to Google for improvements on their online corporate communication. I would also like to thank my whole VBP team for being a great support!"

Student Participant, BIMTECH (India)
"This assignment has allowed me to become more confident in [working virtually]. The world is shifting to a virtual basis … and I am immensely ready to take on the new changes because of VBP."

Student Participant, Oklahoma State University
"I have successfully completed a six-week global virtual team project organized by the Department of Business Communication at USC Marshall—and (17) partner institutions. Our team chose to analyze and evaluate Starbucks's online presence.

Thanks to Babson College and Professor Getchell for providing us this amazing opportunity, helping us develops skills: using the latest collaboration and meeting technologies for virtual teamwork, assessing and evaluating team effectiveness and team collaboration, examining, analyzing, and assessing a real organizational challenge for a client company, and collaboratively writing a professional research report with findings and recommendations.

I would also like to extend my appreciation to my teammates. It was a great experience working with you all!"

Student Participant, Babson College
"I am grateful for the chance I had to participate in this six-week global virtual team project that was organized by the Department of Business Communication at the University of Southern California and partner institutions. I was in a team of 6 and my teammates were from Spain, India, New York, Utah, and California. Having to work on a project with a team that was living in different time zones was both challenging and a rewarding experience. The network this has given us will help us in our future careers and business ventures.

Student Participant, Brigham Young University (BYU)